AZ Drivers – Live Bottom Trailers
Full-Time
Job Expiry Date: June 30, 2021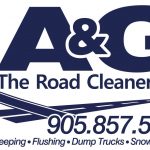 Website A&G The Road Cleaners Ltd.
For over 25 years, our family-owned and operated street sweeping & road maintenance service has worked to establish itself as a customer-first business without you, the customer, there would be no business after all. Led by our friendly, knowledgeable, and professional staff, we've grown into Toronto's largest street sweeping & road cleaning service, outfitted with industry-leading equipment and infrastructure to manage any municipal or commercial job. We've added state-of-the-art tilt & load trucks, dump trucks, and water trucks to our fleet, enabling us to expand our line of services. No other sweeping service in Toronto can match the breadth of our road maintenance services, which now include power washing, street flushing, hydro excavation, construction site cleanup, trash bin rentals, municipal snow plowing, and more. And with real-time, GPS computers onboard every one of our service trucks, our 24/7 operations center is always on call to meet the emergency needs of our customers. We track our sweepers and trucks digitally, so we can immediately dispatch a crew to any location that requires urgent attention. This is all made possible through our infrastructure, featuring the most environmentally-conscious and modern fleet in the industry.
Construction
Full-Time
Job Type: Full-Time
We have immediate work for AZ drivers to operate our live bottom trailers
At A&G The Road Cleaners Ltd., our drivers work locally which allows them to be home after work with their family.
Our equipment is safe for our drivers so they can do their best quality work. We are also an essential service with many growth opportunities.
Salary Type:
per hour
Salary:
$24 - $27
Job Requirements:
Responsibilities
Maintaining accurate documentation including but not limited to safety reports and hours.
Maintain/clean equipment, conduct routine maintenance and minor repairs as required
Ability to understand performance requirements of the contract, route map and sand application rate.
Great customer service skills, team player with good communication a must.
Being punctual is an asset as well as being organized.
Requirements:
Mechanically inclined
AZ license with clean drivers abstract
Ability to work flexible hours and long shifts
Appreciation for a high level of efficiency and quality work
Ability to communicate effectively with solid writing skills
Ability to work shift work and be on call on a regular basis
Live Bottom truck experience preferred
Able to work in all types of weather and temperatures
We offer the following:
Competitive wages
Attractive benefit package
Performance perks