Chiropractic Office Assistant
Part-Time
Job Expiry Date: June 25, 2021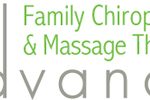 Website ADVANCE Family Chiropractic & Massage Therapy
Chiropractic & Massage Therapy healthcare office
Health Care
Part-Time
Permanent part-time position (34.5 hours/week) available for an energetic, happy, self-starting, great communicator. This is a job that is about HELPING people get BETTER. Advance Family Chiropractic & Massage Therapy continues to grow and needs a Patient Support Person to help us make a difference in our community. You will need to have a GREAT attitude about life and enjoy interacting with people of all ages. If you do, this might be the perfect job for you! We'll train you and help you grow.
This position is available immediately. Please e-mail your resume AND call the office between 9 am and 10 am or between 12:30 and 2:30 pm to arrange an interview time. 905-857-5411
We look forward to meeting you!
Salary Type:
per hour
Salary:
$15-$17
Job Requirements:
Excellent use of English for both speaking and writing.
Positive, enthusiastic.
Interested in health.
Desire to help people to become the best versions of themselves!